Important Publications About Jigsaw Puzzles
There are many publications on all aspects of jigsaw puzzles. But for me, the most important ones, in order of use, are: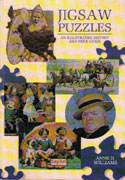 Jigsaw Puzzles: An Illustrated History and Price Guide, by Anne D. Williams. Radnor, PA: Chilton/Wallace-Homestead, 1990. paperbound, 362+ pages, 64 color photos, 750 b&w photos. Contains history of jigsaw puzzles, details on history of 30 major manufacturers, collecting tips, valuation guide, price guide, 3 indexes. Now out of print, but it shows up for sale fairly regularly on online auction: www.ebay.com and usually can be ordered from used book dealers through Amazon.com.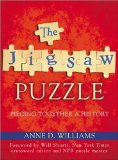 The Jigsaw Puzzle: Piecing Together a History, by Anne D. Williams. Berkley Books, 2004. ISBN 0-425-19820-0. Price $22.95. 270 pages, hardcover, more than 100 illustrations, both color and B & W. Foreword by Will Short. Book covers history of jigsaw puzzles from the 1750s to the present. Paperback edition came out in fall 2005 with no color photos, only B & W, otherwise the same. ISBN: 0-425-20182-1. Price $15. Available through Amazon.com
To order signed copies of Anne Williams' books, or to order other books from the list below, visit: http://abacus.bates.edu/~awilliam/publications.htm
Master Pieces: The Art History of Jigsaw Puzzles, by Chris McCann. Over 500 color photos of die-cut cardboard puzzles of the 1930s through 1960s. Lengthy appendix with biographical info on artists who painted the pictures used for puzzles. 223 pages, hardbound. Available through Amazon.com
British Jig-Saw Puzzles of the 20th Century, by Tom Tyler. (published in England in 1997). Very informative, very well illustrated book that picks up where Hannas left off. Good historical information on major English puzzle companies (Tuck, Chad Valley, Hayter/Spear, as well as contemporary manufacturers), almost 400 color pictures. 132 pages, hardbound.
Making Wooden Jigsaw Puzzles, by Evan Kern. (Stackpole Books, 1996). Complete how-to for makers of wood puzzles for adults. Includes one chapter on children's puzzles. Well illustrated, mostly black and white. 115 pages, paperbound. Available through Amazon.com.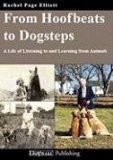 From Hoofbeats to Dogsteps: A Life of Listening to and Learning from Animals, by Rachel Page Elliot. Available through Amazon.com
Wooded Jigsaw Puzzle Sites
Below are some of the modern-day cutters of wooden jigsaw puzzles. This is by no means an exhaustive list.
Other Puzzle-Related Sites