Presentations to Anne Williams and Bob Armstrong
April 13, 2007
AGPC Puzzle Parley, San Francisco, CA
The Story
I have never been so surprised in all my life. Since 1994 and with the help of others, I have organized and managed 8 meetings for puzzle makers, collectors, enthusiasts, assemblers and dealers, focused entirely on jigsaw puzzles, the only such meetings in this country. In 2004 at the AGPC Puzzle Meeting in Concord, MA, Melinda Shebell ("Melinda") and I decided to honor Pagey Elliott, then 91 who has graciously assisted many puzzle cutters in getting started, suggested we hold such meetings and still cuts puzzles herself, by presenting her with a special puzzle cut by 17 different puzzle makers from around the country. Melinda did all the work of organizing, locating and preparing the artwork, and guiding the project through to completion, and the presentation was a smashing success.
So when Melinda and Joe Seymour suggested that Melinda do another such presentation puzzle for Anne Williams at our San Francisco puzzle meeting in April 2007, I agreed although concerned with the enormous amount of work Melinda was undertaking. After all, Anne is the leading author, collector, historian, and lecturer, in the American jigsaw puzzle world. You name it and Anne does it for "puzzledom". Melinda even asked me to cut a section of the composite puzzle she was planning for Anne and came to our house to photograph many of our puzzles for the composite scene. I allotted a slot in our busy schedule at the Puzzle Parley for the presentation to take place just before lunch.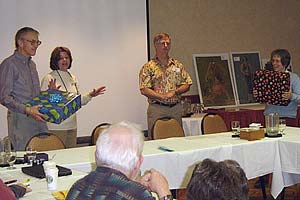 At the presentation to Anne, Melinda also asked me to stand up, and then gave each of us a package covered with wrapping paper.
Anne was asked to open hers, which turned out to be a large white box covered with labels of many puzzle cutters. This was followed by the unveiling of a huge (3'' x 3'') puzzle, to Anne''s complete shock.
Then I was asked to do the same: first opening my package which also turned out to be a large white box covered with labels of many puzzle cutters, followed by the unveiling of another, very different, huge (2'' x 5'') puzzle, to my complete shock as well.
Until I actually saw the puzzle intended for me, I did not believe that Melinda could "pull off" a second such achievement. Similarly, Anne who had cut a section for my puzzle, was equally convinced that I was to be the only recipient of such a presentation because of my years of organizing puzzle parleys and assisting the puzzle world. We both were profuse with our thanks at the Parley but still owe a huge debt of gratitude to Melinda and the others who assisted her for our two very special gifts.