Gloria is a 300 piece Parker Brothers/Pastime puzzle cut in 1928 in a highly unusual and intricate style with 36 elaborate figure pieces. It found its way to me because it had suffered such serious damage over the years that the puzzle was worthless to anyone else. Specifically, 150 pieces required repairs, many with their 3 layers of ply warped and delaminated and picture separated, and then some of these broken further into fragments (see close up below for a particularly egregious example).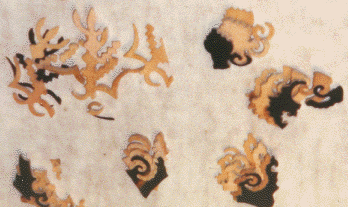 It took nearly a month and 100 hours of labor to reassemble, glue, and file each damaged piece, and to refile them again just to fit into the puzzle because the intricate nature of the original cutting required tolerances of a thousandth of an inch (or less). While all the pieces technically were present, many had broken knobs and missing fragments and layers of ply which had to be replaced. Just working on the puzzle caused further damage.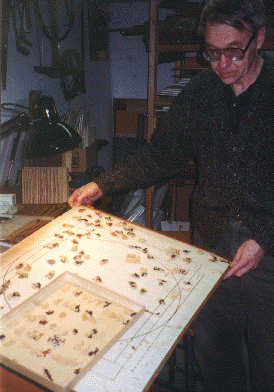 By the end, I had developed a "love-hate relationship" with Gloria which only another craftsperson who has ever become fully engrossed in a seemingly overwhelming work will ever understand. Now, however, Gloria once more looks out demurely at the world with all her stunning beauty and will remain forever in the Armstrong Collection as a shining example of the proverbial "labor of love".
Also see Requiem for another example of a difficult restoration of mine, with "before-and-after" shots.