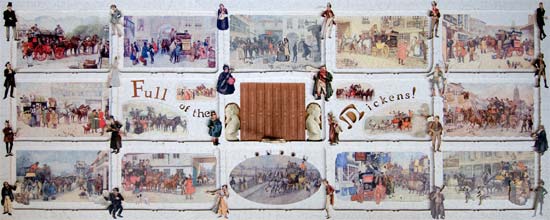 Move your cursor over the puzzle to see more detail
"Full of the Dickens" is very special to me for many reasons.
With over 3200 pieces it is one of the largest truly interlocking puzzles (i.e., can be dragged across a table by pulling one end) ever cut by hand. For comparison, visit "Rome Coliseum"
At 2' x 5' in size, it is one of the widest interlocking hand cut puzzles, as wide as "Rome Coliseum".
With nearly 600 pieces in the top layer of white and corner characters, it is probably the largest 2 layered puzzle ever made. Melinda cut this top layer entirely by herself, employing many of the cutting styles I analyze in my article on puzzle cutting styles.
With 14 different puzzle makers cutting sections, it joins the Pagey Elliott and Anne Williams puzzles as one of the three largest joint hand cut jigsaw puzzle projects ever undertaken.
The 16 coaching scenes from Dickens' novels are copies of the entire series of 16 prints published by Raphael Tuck & Sons, London England in the early 20th century, based upon the artwork of Albert Ludovici, Jr. I have collected the series in jigsaw puzzles, mostly Parker Brothers Pastime puzzles, and done research into their origin. (see Ludovici's Dickens Coaching Puzzles). And I am a member (and Treasurer) of the Worcester, MA Chapter of the Dickens Fellowship, London, England and have enjoyed the novels of Dickens for many years. Samuel Pickwick is a particular favorite of mine and is the central pop-up figure in the entire puzzle proposing a toast with a glass in his hand, something I have been known to do on many an occasion.
In organizing the cutting of the puzzle, Melinda arranged for the makers to cut most of the special cutting techniques defined and illustrated in my article re special cutting techniques. Of the 38 special techniques I discuss and display in my article on special cutting techniques, "Full of the Dickens" has 35, well in excess of any known puzzle. Our son, Conrad, cut a 145 p. puzzle for my article employing 21 techniques, "Puzzle Cutting Techniques", and a puzzle maker in England has cut a puzzle with a couple more. But nothing on the scale of "Full of the Dickens". And in the process of cutting this puzzle, Melinda has employed what should be recognized as another special cutting technique; dropout-scripting in the cutting of "RAA" and "April 13, 2007" in the sections on either side of the center section. Melinda had been working on this when I wrote my article and I mention it in a footnote, but she has now developed the technique into a useful tool.
"Full of the Dickens" was part of a joint presentation which included Anne Williams. Anne encouraged me in starting to collect the old puzzles and has continued to give me guidance on puzzle matters since then. I rely upon her books and articles on virtually a daily basis. Anne is everything in the world of American jigsaw puzzles and I feel deeply honored to be recognized with her.